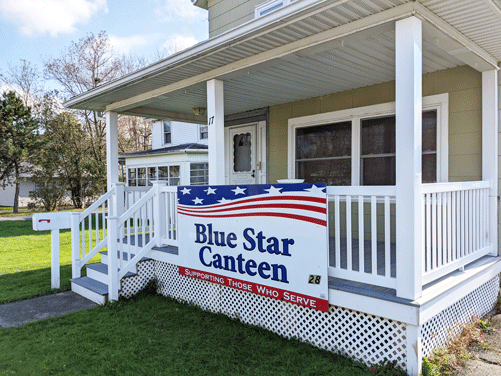 We are the Blue Star Mothers of America, Inc., New York Chapter #1. We are the Moms of the military. We are non-political, non-profit and non-sectarian. Our Chapter was started by five Mothers back in 2004. We join over two hundred other chapters around the nation to carry out the mission statement of serving our deployed troops, our veterans and the families on the home front.
Our goal is to take care of our deployed soldiers with boxes full of a touch of home, cards and letters. If we get a special request from our troops, we attempt to fill it. New York # 1 is full of Mothers who are doing their best to make a difference while their child is deployed.
We operate on the theory that it is better to be occupied to make the time pass faster than to sit around and worry. We support each other and are there when someone needs help surviving another day. We have had Mothers with two or three children deployed. We have Mothers who have, in addition to their own child deployed, nephews and nieces also deployed.
We try to find things to do to promote the support of our military person. We try to help the families they left behind by getting them the information about where to go if they have a problem. We support our veterans by giving them a place to come that is homelike and having a working garden for them. We help out by supplying clothing if a special outfit is needed by a veteran so that he, or she, can go on a job interview. We fundraise to try and help our wounded get back to a fairly normal life through treatment.
The benefits of being a Blue Star Mother are many. You are doing something useful to help our troops so far away. You give them support and remind them of why they are out there doing what they do. You are lending support to our veterans to show them the appreciation of what they gave to support our country. more>>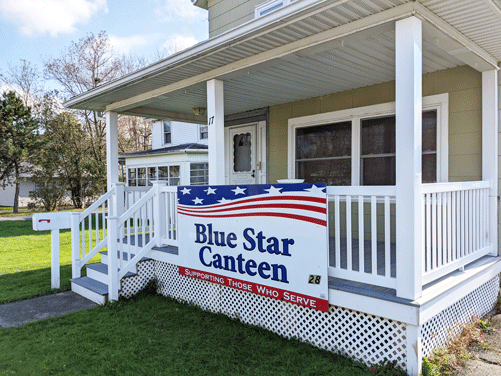 The Blue Star Canteen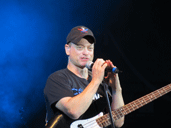 Gary Sinise met with BSMNY#1 after the Lt. Dan Band performance at Fallsview Casino. The Lt. Dan Band covers everything from Springsteen to Linkin Park, from Aretha to Hendrix. There's something for everyone, and each show highlights the musical diversity of the band, as well as the passion and energy each member brings to the stage. Whether they're performing for troops overseas or a local club crowd, the goal is to have fun and rock the house! The Name "Lieutenant Dan" is the character Gary portrayed in the 1994 film Forrest Gump, a role for which he earned an Oscar nomination for Best Supporting Actor. As Gary began visiting troops around the world, people (even little kids) who didn't know him as Gary Sinise, the actor, would recognize him as "Lt. Dan". Those in the military also seem to identify strongly with the character. And so the name for his group was an easy choice: Lt. Dan Band!